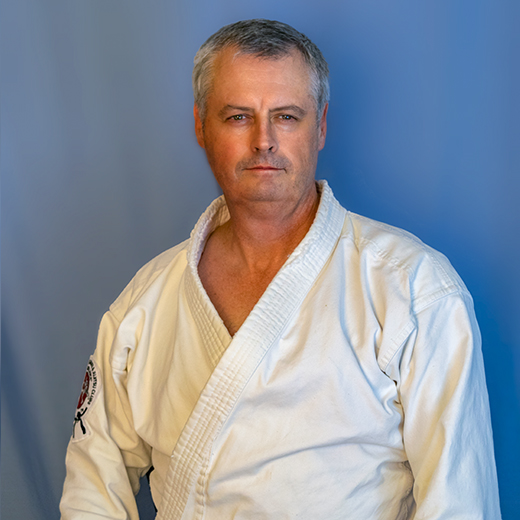 Marty Husband
Shihan 6th Dan
Shared Knowledge
Shihan Marty Husband started his first martial arts training in 1973. Over the years he has trained in many martial arts styles such as Kung Fu, Karate, Jujitsu, Tae Kwon Do, and Boxing. He currently holds the rank of 6th Dan in Shotokan Karate, 5th Dan in Yamanaka Kojute Jujitsu, 4th Dan in Tae Kwon Do (specifically Chang Moo Kwan and Soong Moo Kwan) and 4th Dan in Taiho-jitsu (Police Tactics and Self Defense).

His instructors have been Shihan Ed Kuras in Karate and Jujitsu, Hanshi George Anderson (Kwan Mu Kwan Founder) in Karate, Jujitsu, Kung Fu, Korean Karate, and Kobudo, Shihan Ben Deleon and Shihan Caldwell of Nebraska for Judo and Jujitsu, Carlyle Ragoonath (first Shotokan instructor), Instructor Steve Green in Tae Kwon Do in his teenage years.

Shihan Husband has been teaching martial arts since 1988. His students have range from age 3 to 97 and has taught many hundreds of students in karate, self-defense, and jujitsu. He has had several students on the US karate teams and on the US jujitsu world teams under the head instructor of Shihan Kuras.